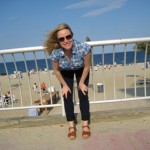 FoodArt for Kids was started by Michelle Thaler, previously of Creative Cooks Culinary Center.
You can learn more about Michelle and her past experience in Creative Cooks by watching these clips:
http://www.youtube.com/watch?v=rapzXwl7s8I
http://www.youtube.com/watch?v=Zx5IIG3Hb2E
More about Michelle:
I am a mother of two living in Downtown Brooklyn. Prior to having kids, I worked as a lawyer for a software company and also did some real estate work. After having children, I quit the corporate world and decided to focus on my family. I have traveled the world (with and without my family) and have a deep appreciation for art and food; I love to cook and bake; in fact, I do it on a daily basis (no one is pointing a gun at me…). I hope to share that knowledge and love with my students.